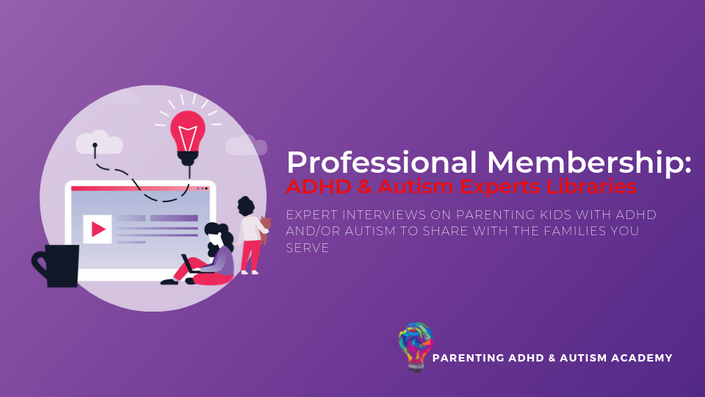 Experts Library Professional Membership — Parenting ADHD and Autism
127 Interviews with ADHD, Autism, and Parenting Experts to Share with and Empower the Parents You Serve
Join the Membership
Help Your Clients Thrive!
Become a member and get ongoing access to share our library of 99 (soon to be 127) expert video interviews on parenting kids with ADHD and autism. This will further allow you to help your clients — and the families you serve — thrive.
This membership gives you the opportunity to fast-track parents' understanding of these complex neurodevelopmental differences. By sharing these expert videos, you're providing the insights, knowledge, and strategies necessary for progress and family growth outside of your time together in client sessions.
Through sharing these sessions, the parents of the families you serve will: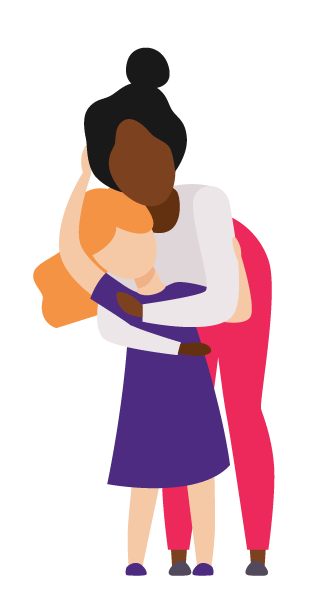 learn about ADHD or autism so they can better understand the brain-based differences, their impact on functioning, and their child's experience,

gain insight into why unwanted behavior happens so they can address their child's behavior more effectively,

discover parenting strategies that actually work for kids with ADHD and autism,

learn about many treatment and intervention options for ADHD or autism,

identify ways to improve their and their child's overall health and well-being,

understand why parent self-care is so important and learn strategies for fitting it into a busy family schedule,

get insight about how to better navigating the teen and young adult years with ADHD and/or autism,

learn how to effectively advocate for their child in school,

determine ways to teach independence and prepare their child to launch and succeed in higher education and the workforce

and so, so much more...
The Experts and Sessions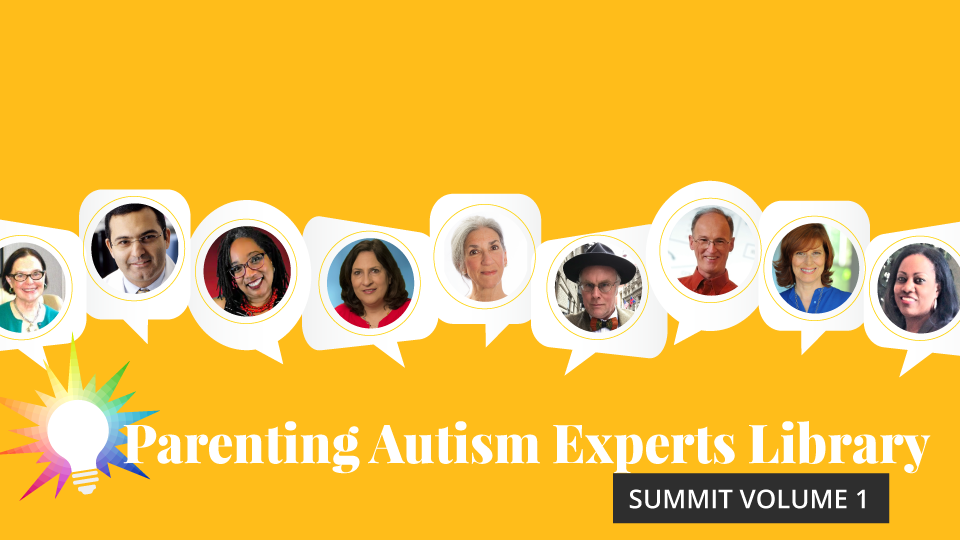 Understanding Your Child with Autism
Understanding the Core Challenges of Growing Up with Autism, with Dr. Dan Shapiro, MD (45:18)
The Trauma Effect the Autism Experience Has on the Brain, with Robert Cox, MA, LPC, NCC (51:53)
Brain Differences and Their Impact on Your Child's Autistic Experience, with Sarah Wayland, PhD (49:34)
Flexible Thinking in a Dynamically Changing World, with Steven E. Gutstein, PhD (49:01)
Co-Occurring Disorders Common with Autism Spectrum Disorder, with Salya Namazi, PhD (45:01)
Autism is Different in Girls — They Don't Fit the Autism Stereotypes, with Donna Henderson, Psy.D. (42:43)
Understanding & Honoring Kids' Sensory Sensitivities, with Carol Stock Kranowitz, MA (53:57)
Medication Management for Kids on the Spectrum, with Dr. Gonzalo Laje, MD, MHSc, FAPA (56:53)
Creating Optimal Wellness for Kids with Autism, with Jennifer Scribner, NTP CGP (35:23)
Enhancing Success for Physical Activity and Sports Programs, with Melissa Pangelinan, PhD (51:26)
How to Help Kids With Language Processing Difficulties, with Maria Dixon (54:10)
Learning to Cope: How the Parent Brain Evolves From Grief to Acceptance and Beyond, with Rita Eichenstein, PhD (56:04)
Understanding the Rumble & Rage and Managing the Cycle of Meltdowns, with Brenda Smith Myles, PhD (49:45)
Managing and Resolving Challenging Behavior, with Holly Moses, MS, BCBA, LPC, LPA (52:15)
Teaching Social and Emotional Concepts to Kids with Autism, with Kari Dunn Buron (45:10)
Untangling Our Own Stuff So Our Kids Can Be Who They Are, with Debbie Reber (35:57)
No "Fixing" Required: Accepting Our Kids for Who They Are, with Heather Chauvin BSW (40:17)
Change Course: The Pitfalls of Traditional Parenting & What Works Better, with Penny Williams (40:00)
Friends & Family
The Importance of the Parent-Child Guiding Relationship, with Rachelle Sheely, PhD (39:36)
Social Skills Interventions and Strategies that Help Children with ASD, with Kathy Dow-Burger (55:49)
Loving Connections: Getting Away from Blame and Shame, Jenny Palmiotto, PsyD, LMFT (50:46)
Communication Strategies to Build Connections, with Dr. Alisha Griffith, Au. D, CCC SLP, CPC (27:21)
Ensuring Siblings Feel Loved & Important, Too, with Jackie Flynn, EDS, LMHC, RPT (24:27)
The Importance of Self-Care for Parents of Kids with Special Needs, with Vikki Spencer (48:28)
School, Work and Life
Be Different: Navigating the World of Neurotypicals, with John Elder Robison (47:14)
Developing Independence & Flexibility in Teens w/ Executive Function Deficits, with Monica Adler Werner, MA (48:38)
Transitioning to Life After High School: College & Gap Year, with Judith S Bass, CEP (43:42)
Preparing Your Teen for Life After High School: Career Readiness, with Haley Dunn, MA, LPC (44:02)
How to Advocate Effectively with School Teams, with Debrah Martin, MA (48:58)
Homeschooling & Hybrid: Alternatives for Autistic Students, with Shawna Wingert (61:29)
Failure to Launch: Helping Young Adults with Autism Transition to Independent Living, with Alisa Foreman, LMFT (44:28)
Their Beautiful Minds: Focusing on Strengths with Dr. Edward Hallowell (18:40)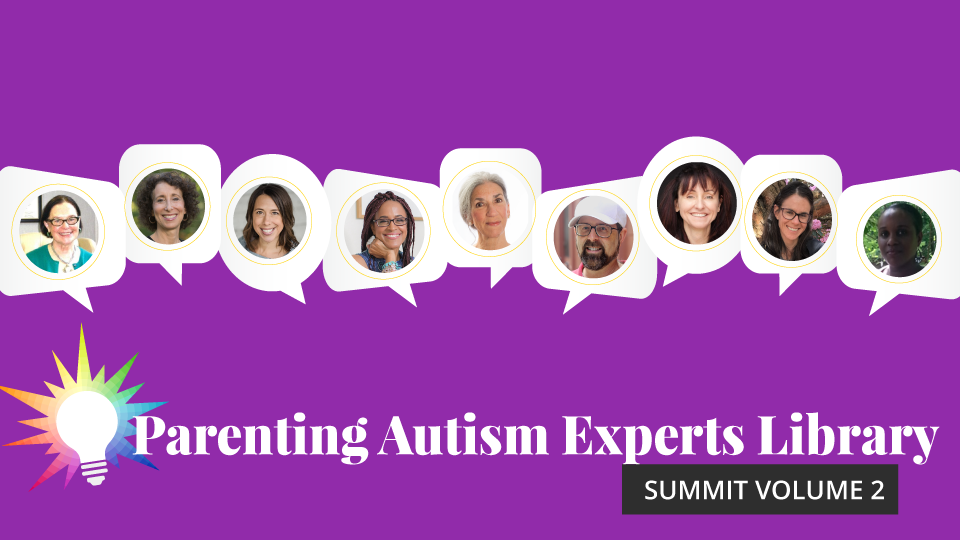 Behavior, Emotions & Self-Regulation
Self-Regulation and Autism, with Dr. Susan Hopkins (61:36)
Sensory Challenges: What They Are and How to Help Kids Cope, with Carol Stock Kranowitz, MA (66:21)
Interoception — How You Feel Your Emotions, with Kelly Mahler MS, OTR/L (53:26)
When the Two Exceptionalities are Autism & Giftedness, with Julie F. Skolnick MA, JD (45:40)
Developing Flexible Thinking, with Kristine Mastronardi & Jake Mastrionardi (56:00)
The Ziggurat Model — Designing Comprehensive Intervention Plans, with Ruth Aspy, PhD & Barry G. Grossman, PhD (49:26)
Autism, Trauma, and Therapies That Can Remap the Brain, with Julie M. Bowen, LCSW (55:28)
Parenting the Kid You Have
Honoring the Emotional Experiences of Teens & Young Adults With Autism, with Debbie Reber (47:03)
The Subtle Presentations of Autism, with Donna Henderson, Psy.D. (49:41)

How to Let Go of the Struggle and Focus on What Matters, with Ann-Louise T. Lockhart, PsyD, ABPP (32:45)

The Power of Creating Structure & Routine, with Penny Williams (52:25)
Holistic Care for Kids with Autism, with Elisa Song, MD, (35:16)
Finding Purpose: Exploring & Nurturing Your Child's Interests, with Colleen Kessler, MEd (43:17)

How to Work with Your Child's Pediatrician, with Yulanda Swindell, MD (44:54)

Making Connections & Social Development
What I Wish They Knew When I Was Young..., Kim Clairy, OTR/L with William Miller (57:38)

Language Skills: How They Cause Difficulties with Theory of Mind, Problem Solving, and More, with Kathy Dow-Burger, CCC-SLP (58:00)

A Friend for Me: Navigating the Journey of Friendship, with Rachelle Sheely, PhD (48:45)

The Importance of Making Meaningful Connections, with Dr. Edward Hallowell (39:49)

The Foundations of Connection and How to Teach Them, with Sarah Wayland, PhD (39:12)

Teaching Social Skills Using the PEERS® Curriculum, with Caron Starobin, LCSW-C & Jamell White, PhD, LCSW-C (40:45)

Helping Your Anxious Child with Social Interactions & Connections, with Sharon Saline, PsyD (45:53)

School, Work & Beyond
Working With and Improving Executive Functioning Deficits, with Brendan Mahan, MEd, MS
College Supports & Preparing for Employment, with Laurie Ackles, LMSW
The Intersection of Race, Autism, and Emotional Disabilities, with Abila Tazanu, MD
How to Help Autistic People Develop Self-Advocacy Skills, with Dr. Stephen Shore
Tools & Strategies for the Classroom, with Sasha Long, BCBA, MA
Assistive Technology to Help Students with Autism & Related Learning Challenges, with Joan L. Green, MA CCC-SLP
Navigating Special Education When Your Child has Autism, with Kristin Cook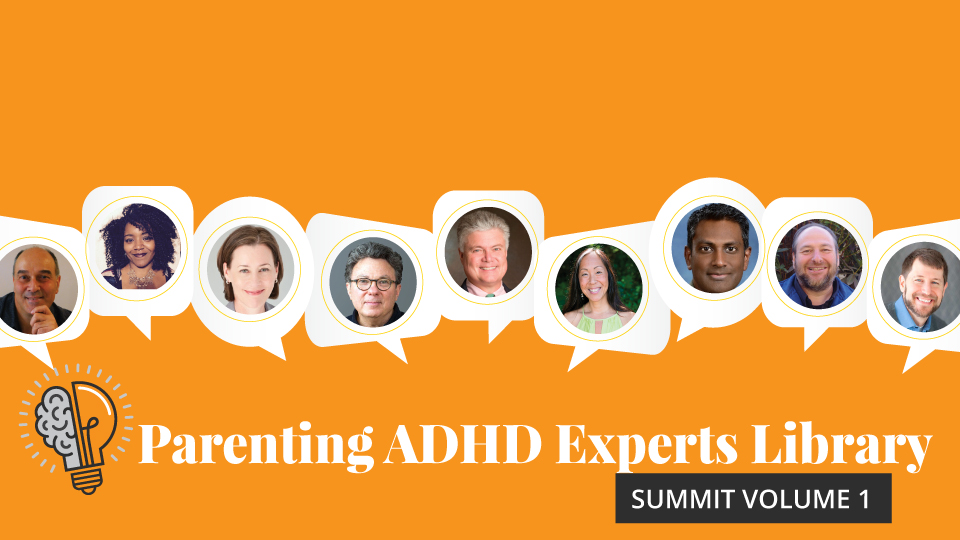 Understanding Emotions, Stress, and the Brain to Understand Behavior, with Sarah Wayland, PhD (62:15)
Defining the Three Types of ADHD: What ADHD Is and What It Isn't, with Marilyn Griffin, MD (47:26)
Understanding the Adolescent Brain: Raise Competent, Resilient Teens, with Sharon Saline, PsyD (45:11)
How the ADHD Experience is Different for Girls, with Linda Roggli, PCC (42:51)
The Truth About Video Games, Screen Time and ADHD, with Randy Kulman, PhD (60:45)
Your Strategic Plan to Optimize Your Child's Potential, with Devon MacEachron, PhD (45:27)
Parenting Strategies for ADHD
Shifting Your Mindset: Why It's So Hard and How to Facilitate It in Your Child, with Jeff Copper, PCAC, PCC, ACG (51:09)
Mindful Parenting for Raising Kids with ADHD Effectively, with Mark Bertin, MD (43:28)
How to Be the Parent Your Child with ADHD Needs You to Be, with John Willson, MS, LRT/CTRS (46:57)
Taking a Coach Approach to Parenting Kids with ADHD, with ImpactADHD's Elaine Taylor-Klaus & Diane Dempster (48:20)
Out-of-the-Box Strategies for Successfully Raising Kids with ADHD, with Roberto Olivardia, PhD (55:56)
Parenting a Child with ADHD When You Have ADHD Yourself, with Terry Matlen, ASCW (53:15)
Behavior and Lagging Skills
Collaborative & Proactive Solutions for Challenging Behavior, with Ross W. Greene, PhD (31:19)
When Expectations Are Beyond Capability and What to Do About It, with Holly Moses, MS, BCBA, LPC, LPA (51:49)
Executive Functioning Solutions for Kids with ADHD, with Jim Forgan, PhD (41:38)
Time Blindness: Teaching Time Management Skills to Kids with ADHD, with Ari Tuckman, PsyD, MBA (49:07)
Organizing Kids with Organizational Challenges, with Leslie Josel (52:29)
When ADHD & Autism Co-Exist: Insights and Treatment from a Trauma Perspective, with Robert Cox, MA, LPC, NCC (47:18)
Treating ADHD & The Whole Child
Medication & Beyond: Treating the Whole Child when Treating ADHD, with Dr. Charles Parker (57:48)
Taking an Integrative Approach to Treating ADHD, with Elisa Song, MD (52:14)
Nutrition for Optimal Brain Health and Functioning, with Mira Dessy, NE BCHHP (55:02)
The Powerful Role Rhythm Plays for Kids with ADHD, with Suzanne Cresswell, PT, OT, CHT, CEA (40:19)
How to Secure Community Resources and Assistance, with Zondra Moss, MS, LMFT (23:45)
Nurturing Talents, Gifts and Passions to Create Successes & Empower Your Child, with Dr. Edward Hallowell (32:51)
Protecting and Boosting Your Child's Self-Esteem and Self-Confidence, with Jackie Flynn, EDS, LMHC, RPT (60:43)
Suicide Risk and Intervention: The Conversations You Must Have with Your Child, with Jonathan B. Singer, PhD, LCSW (56:12)
Finding Your Child's Spark and Running with It, with Ben Glenn (48:28)
Protecting Your Child from the Criminalization of their ADHD, with Robert Tudisco, Esq. (42:12)
Finding Acceptance for Differently-Wired Kids and Neurodiversity, with Debbie Reber (48:20)
Special Education, Accommodations, and Related Services, with Carolyn D'Argenio, M.S. (42:47)
Homeschooling Kids with ADHD and Learning Differences, with Shawna Wingert (63:25)
Raising Twice-Exceptional Kids: Supporting Giftedness and Disabilities in the Same Child, with Colleen Kessler, M.Ed. (40:22)
Assistive Technology for Struggling Learners: Discovering the Tools to Help Your Child Succeed, with Jennifer Choi. MS (62:16)
Parent Self-Care and Wellbeing
The Importance of Self-Care for Moms of Kids withSpecial Needs, with Vikki Spencer (46:29)
How to Be Resilient When Raising a Child with Invisible Disabilities, with Rev. Mantu Joshi (38:04)
How Moms Can Live a Life of Intention and Purpose, with Julie Neale (31:28)
Wake Up Each Day with a Renewed Fire and Focus, with Dr. Alisha Griffith, Au. D, CCC SLP, CPC (39:40)
Healthy Family, Happy Family: How Parent Health Affects Everyone, with Maureen Lake, MA, IAHC (35:14)
The Power of Acceptance and Letting Go, with Penny Williams (29:56)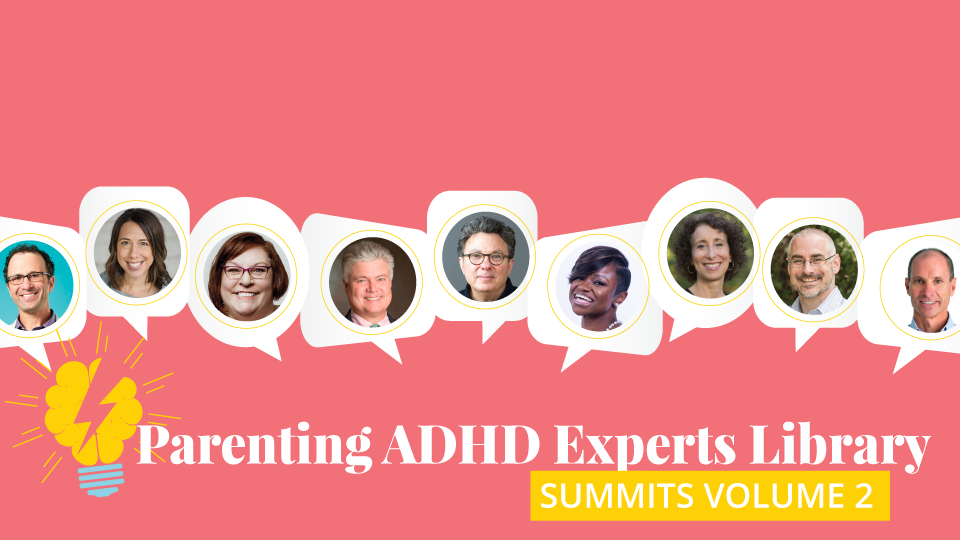 Understanding the ADHD Brain
What Your ADHD Child Wishes You Knew, with Sharon Saline, PsyD (39:08)
Amygdala Hijack's Role in Behavior & Your Parenting, with Sarah Wayland, PhD (44:16)
How the Brain Creates Motivation in Teens with ADHD, with Jeff Copper, PCAC, PCC, ACG (37:19)
School Stress and Its Effect on Brain Functioning, Behavior, and Emotions, with Jerome Schultz, PhD (55:38)
Determining Appropriate Expectations for Kids with Developmental Delays, with Holly Moses, MS, BCBA, LPC, LPA (40:36)
Emotions, Self-Regulation and the ADHD Brain, with Christine Triano, LCSW (32:52)
ADHD Treatment Options
A Primer on Treating ADHD with Medication, with William Dodson, MD (50:46)
Therapy Options for Kids with ADHD, with Jackie Flynn, EDS, LMHC, RPT (28:49)
Lifestyle Optimization for Kids with ADHD, with Dawn Kamilah Brown, MD (33:58)
The Power of Mindfulness for Kids with ADHD, with Robert Cox, MA, LPC, NCC (40:36)
Getting Your Kids to Eat Nutritiously for Optimal Health Jennifer Scribner, NTP CGP (39:06)
ADHD Parenting Strategies
What Kids with ADHD Need to Be Happy, with Dr. Edward Hallowell (26:36)
Building a Resilient Family in the Midst of ADHD, with Mark Bertin, MD (40:38)
Parenting a Strong-Willed Child, with Angela Pruess, LMFT (46:15)
Addressing Challenges with a Strengths-Based Perspective, with Julie F. Skolnick MA, JD (31:40)
Raising Differently Wired Kids: SOS for Parents in the Trenches, with Debbie Reber, MA (38:35)
5 Parenting Strategies that Can Change Behavior Right Now, with Penny Williams (32:02)
Managing & Improving Behavior
Behavior Is Communication: Unlocking the Reasons Behind Behavior, with Ross W. Greene, PhD (30:47)
Screens and Behavior: Managing Your Child's Electronic World, with Randy Kulman, PhD (52:51)
Working with Teachers & Administrators to Manage Behavior at School, with Amanda Morin (55:50)
Outsmarting Worry in Kids with ADHD & Anxiety, with Dawn Huebner, PhD (35:37)
Using the Nurtured Heart Approach® to Improve Behavior, with Tammi Van Hollander, LCSW, RPT (39:56)
Managing Everyday Life with ADHD
Resilience — Teaching Kids with ADHD Grit and Heart, with Ben Glenn (36:34)
Alternatives to Traditional Higher Education for Students with ADHD, with Rick Fiery, BS, ME, MBA (45:21)
Surviving and Thriving with ADHD in the Teen Years, with Wes Crenshaw, PhD, ABPP, CST (40:20)
Overcoming the Wall of Awful that Comes with ADHD, with Brendan Mahan, MEd, MS (46:40)
It's The Little Things: Creating Success in the Day-to-Day, with Shawna Wingert (49:09)
Getting on the Same Page when Raising Kids with ADHD, with Melissa Orlov (28:11)
What Parents Are Saying About These Sessions
"Thank you, thank you, thank you for these sessions. It has been SO eye opening. I am seriously in tears because it is the perfect message at the perfect time."— Bethany
---
"I have often felt as though I don't know where to begin. I didn't know how to reconcile the ADHD diagnosis with what I see in my child. These sessions have provided me with many avenues to explore and consider as we move forward. It was comforting and reassuring to hear a consistent overarching message of encouragement and positivity, as well as having specific and detailed information that I can apply to my situation. What a valuable opportunity! Thank You!!!" — Tanya
---
"Thanks so much for these sessions. They've been so helpful. All the speakers were amazing. Loved it all; even listening in from England and getting up at 4 am every morning to take notes! Bless you for all your hard work that has culminated in helping so many others." — Helen
---
"This entire bundle of sessions has been truly inspiring and life changing." — Julia
"Wow!!! So helpful. This is a goldmine!"
—
Lisa
How to Use this Library with the Families You Serve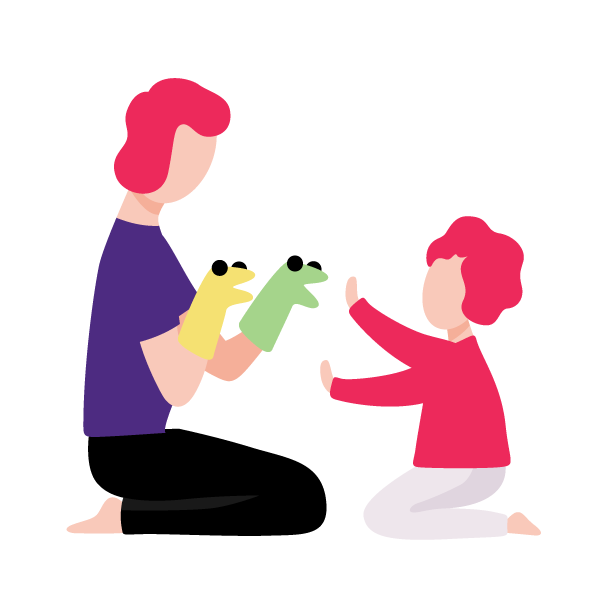 Share specific sessions with a family you're working with that pertains to a particular struggle they're having or furthers progress toward one of their goals.

Give families you're working with access to all the sessions applicable to their child(ren)'s diagnosis.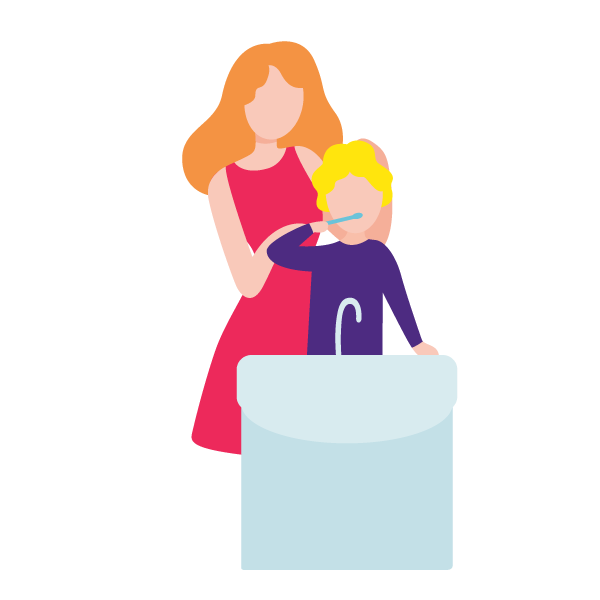 Assign a session to a client to view before your next meeting with them.

Watch sessions with your clients and discuss how they'd implement the insights and advice with their own child.
Your Hosts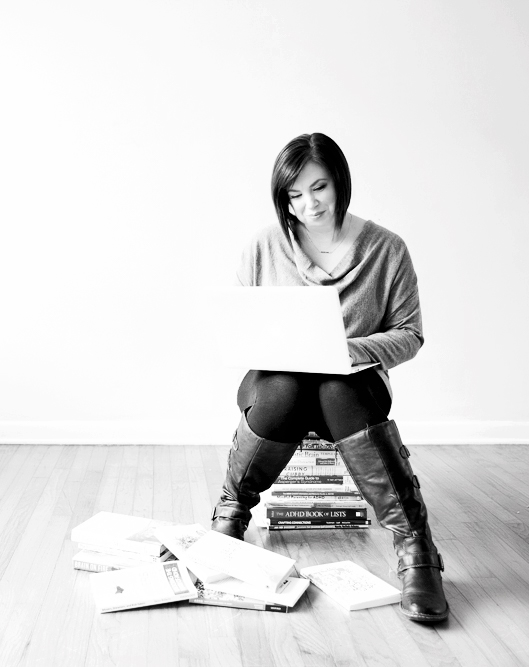 Parenting ADHD Trainer & Guide. Award-Winning Author. Journalist. Speaker.
Penny Williams trains and coaches parents raising kids with ADHD and/or autism. She's the parent of a son with both ADHD and autism, and the award-winning author of four books on parenting ADHD: Boy Without Instructions, What to Expect When Parenting Children with ADHD, The Insider's Guide to ADHD, and The Hidden Layers of ADHD.
Penny is the current editor of ParentingADHDandAutism.com, Founder and Instructor for The Parenting ADHD & Autism Academy, facilitator of the Happy Mama Retreat and the Purposeful Parenting Bootcamp, and a frequent contributor on parenting and children with ADHD for ADDitude Magazine and other parenting and special needs publications.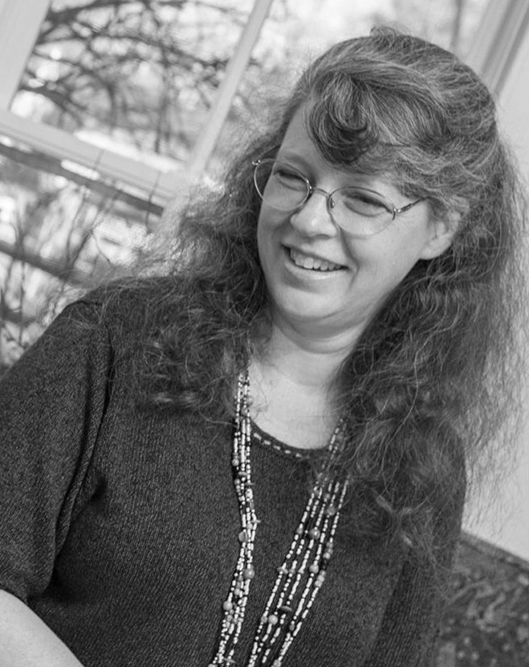 Parent Coach. RDI™ Consultant. Special Needs Care Navigator.
Sarah Wayland, Ph.D. founded her company, Guiding Exceptional Parents, to help parents learn how to confidently and effectively help their children with ADHD, autism, learning disabilities, and other brain-based differences at home, at school, and in the community.
In addition to teaching and working with individual clients, Sarah is co-editor of the book Technology Tools for Students with Autism, and has written articles for the 2e Newsletter, Washington Parent Magazine, the Gifted Homeschoolers Forum, and Expert Beacon. You can learn more at guidingexceptionalparents.com.
More Praise from Parents
"It's SO GOOD. I feel like I have a pretty good handle on ADHD, but this absolutely blew my mind." — Sherry
---
"Thank you so much. Absolute lightbulb moment!" — Laurie
---
"Thank you so much for this! Such good encouragement and help. I've learned so much I can use as I begin this journey with my son." — Lisa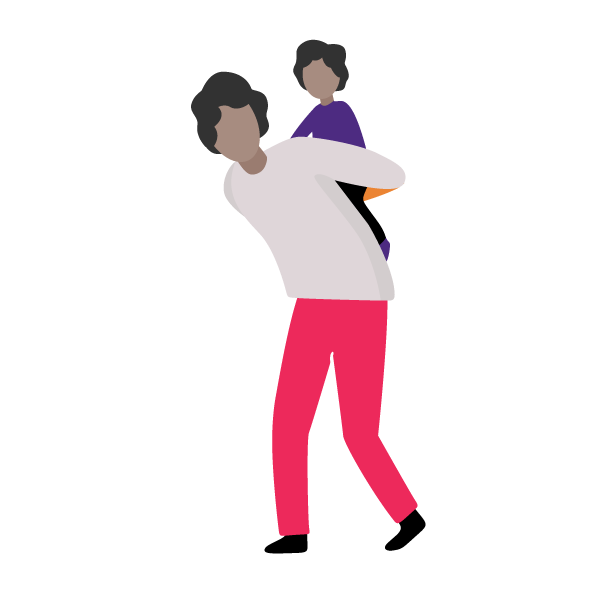 If you are a non-profit or educational organization, contact us for a 25% discount. You'll receive a discount code once we receive your proof of non-profit status.
Frequently Asked Questions
When does access to the sessions start?
Right now. As soon as you register for the membership, you will have immediate access to all the content and can start sharing it with your client or your client's parent(s) right away.
How long do I have access to the sessions?
As long as your membership is up to date, you have access to all the sessions. The number of sessions available will never decrease, but will increase each year as we continue to hold the Parenting ADHD and Parenting Autism summits. For example, there are 99 sessions at the launch of this membership. There will be 127 after the 2nd Parenting Autism Summit November 2019.
What if I am unhappy with the membership?
We would never want you to be unhappy! If you are unsatisfied with content, contact us in the first 7 days and we will give you a full refund.